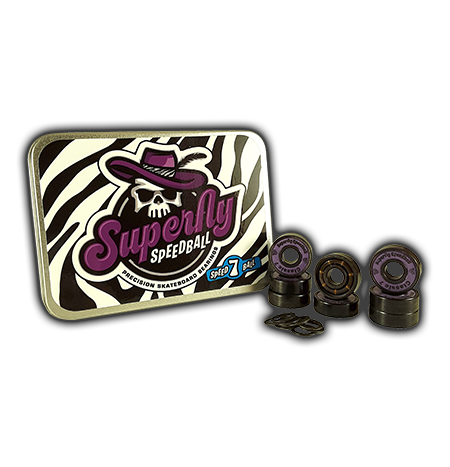 Superfly Speedball - Classic 7 bearings
$20.95
'Classic 7' bearings by Superfly Speedball is THE answer to super fast, premium quality bearings at an affordable price.  Our perfectly polished chrome bearings and an incredibly durable pre-lubed nylon cage will keep you ripping longer and smoother.
Flexible front shield is removeable for easy bearing cleaning.
Each set of  Classic 7 bearings is supplied in a durable tin and contains:
    •    (8) Superfly 'Classic 7' - 7 Ball Precision Bearings
    •    (8) speed washers
    •    (2) Superfly Decals
   
Color: Black with a purple shields
(Set of 8 bearings)
Speedlab Wheels team riders Dave Allen, Brian Drake and Peter Furnee are sponsored by Superfly Speedball.
*For International orders please contact us for shipping price.
*For wholesale orders please contact us for pricing.